guia
gali
DAC Group
WOW Business
User Experience Design ∙ User Interface Design
Challenge
Design an SEO and geolocation-driven microsite optimized for conversion of visitors through phone calls and form fills. The design should enable users to easily find and qualify information and promote high conversions while capturing the brand's identity.
Process
With directional marketing, the trick is finding the right balance of information above the fold. Visitors need to clearly see the Call-to-Actions (CTAs) to increase the likelihood of conversions but also be able to qualify that they are on the right page they searched for through copy to reduce bounce rates.
We begin with low-fidelity wireframes that block the location of the copy sections, images, CTAs, etc. on the page. Once approved by the client, I create higher-fidelity sketches to scope the form fields, headers, navigation, etc. to socialize with the creative director and developers. Once the internal team is aligned, I create the visual design for the page with the most elements and socialize again with the team for feedback. We continue this iteration until the rest of the pages are designed then sit-down with the developers during implementation for design QA.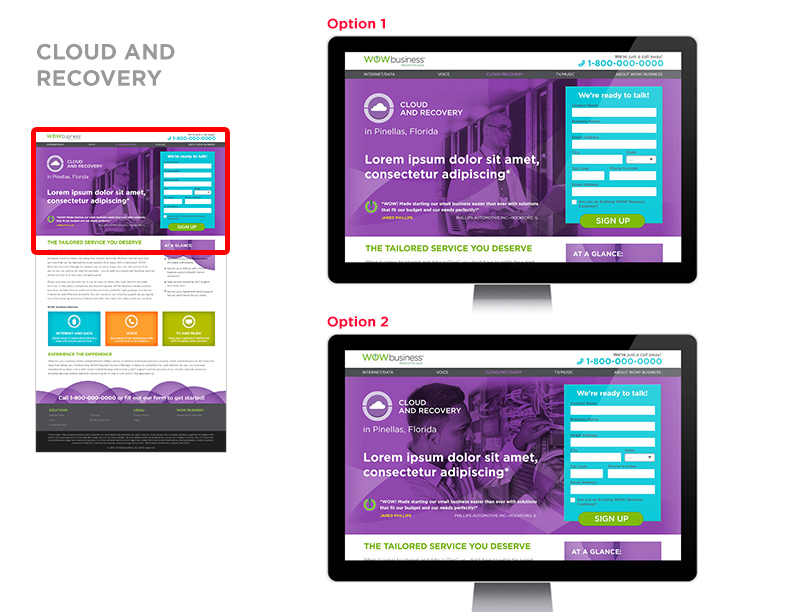 Testing different images with client for the Cloud product's hero section.
Solution
This is the first release in our Performance Creative series, designed for stronger visual presence to capture the visitor's attention and to increase their confidence in the brand. The form takes prominence in desktop and tablet where there is ample screen real estate. In mobile, the form is hidden behind a large green button while the phone number is moved closer to the bottom within a thumb's reach. The visual design was inspired by company's collateral and critiqued against their competitors. The color palette was extended to differentiate the company's product offerings within the site.