guia
gali
Uncharted Software Inc
Uploading and Validating Call Detail Record (CDR) Files
User Experience Design ∙ User Interface Design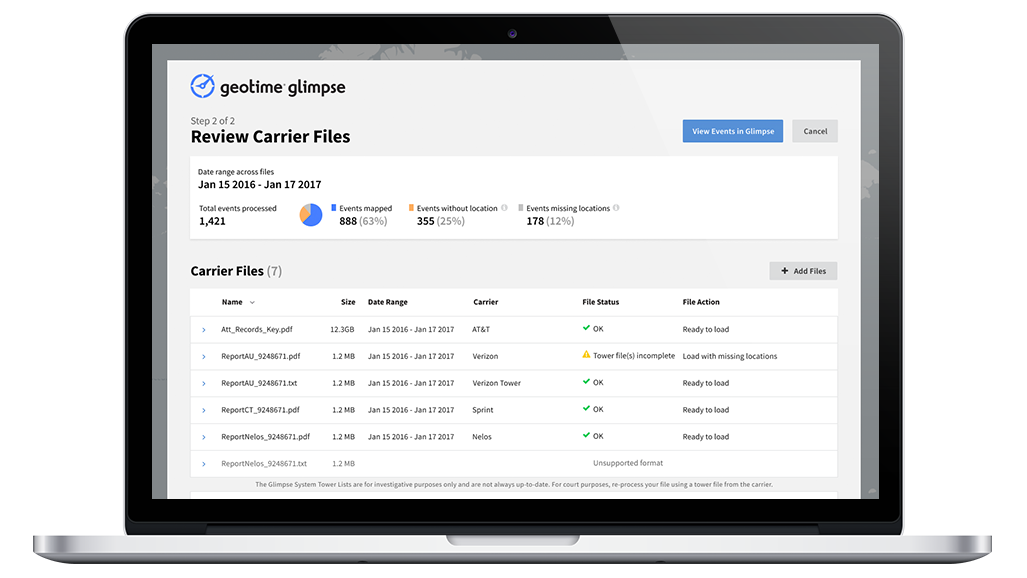 Challenge
How can we make the file upload and validation process more efficient so law enforcement investigators can quickly determine if the Call Detail Record (CDR) files have complete data to be plotted on a map?
Context
GeoTime Glimpse is a visual analytics tool that allow investigators to map the date and location of a person of interest's cellphone activity to determine if the lead is worth pursuing. CDR files usually come as a zipped package of nondescript Excel or CSV files. The CDRs must be accompanied by matching tower files, which contain the geolocation coordinates, to be plotted on a map. With the state of the tool at the time, investigators had no easy way of determining the completeness of the files without further investigating the amount of plotted events across different charts.
Process
Working directly with a company partner, engineering team lead, and customer support manager, we iterated on hand-drawn user flow sketches from the point of login to the file validation screen to determine the sequence and how to present information, where we can cut down on screens, what functionalities are needed, etc.
We wanted to support drag-and-drop from the beginning so investigators can upload all the files from their zipped folders at once. On the file validation screen, we explored listing each uploaded file and its status (e.g., "OK" or "Missing matching tower file") and aggregated visuals to help investigators determine the completeness of the files.
Once the team was aligned on the sketches, I began the high-fidelity designs on Figma and prototyping animations / interactions while the engineering team began developing the functionalities and rough layouts based on the sketches.
Solution
Our solutions were based on three key improvements:
Load multiple files faster with drag and drop
Easily assess the completeness of the files
Go from logging-in to analyzing on a map quickly
Once investigators have logged in, they are greeted with a page where they can drag and drop files or click anywhere on the screen to bring up the file browser to select files. The investigator is immediately moved to the file validation page where they can assess the status of each file or watch the progress bar for files still uploading. Investigators can assess the completed of the files by referring to the pie chart displaying the count of events that can be mapped (has matching tower files), has no locations associated to it (e.g., SMS or data use), and events missing tower locations. Investigators can then decide if there are enough events mapped for analysis or if they need to go back to request additional files. For certain service providers that did not provide tower files, we automatically add our own tower file copy (named "system tower file") to help investigators move quickly to analysis.